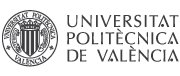 UPV JOB FAIR. REGISTRATION FORM
Fill out this form, digitally sign the registration form generated and send it to foroempleo@sie.upv.es
Make the deposit before the start of the Fair to the Polytechnic University of Valencia, with reference "Job Fair UPV 2022", to this Santander Bank account:
IBAN: ES69 0049 1827 8529 1054 3530 – SWIFT/BIC: BSCHESMM
Once you make the deposit, the University will issue an invoice based on the information that you enter in the Section "INVOICE DATA" below. Once the invoice is issued, it can not be modified.
CAREER AND EMPLOYMENT OFFICE • UNIVERSITAT POLITÈCNICA DE VALÈNCIA
Edificio Nexus (6G) • Camino de Vera s/n, 46022 Valencia • Tel: +34 963877887 • foroempleo@sie.upv.es • www.sie.upv.es/foro